First pictures of King Charles banknotes revealed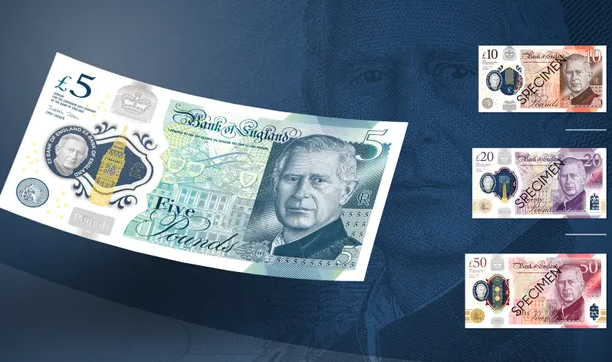 The Bank of England has released the new design for banknotes that include a picture of King Charles.
The only alteration to the current designs of the £5, £10, £20, and £50 notes will be the picture, which will go into circulation in the middle of 2024.
The King's picture will appear on new notes on the front and in the transparent security window.
After the new notes start to circulate, old notes will still be accepted in stores.
Beginning in 1960, Queen Elizabeth was the first and only monarch to be depicted on Bank of England banknotes. The monarch is not shown on the notes that Scottish and Northern Irish banks have printed.
Currently, there are 4.5 billion unique Bank of England notes in circulation, totalling around £80 billion.
According to the Bank of England, to minimise the environmental and financial effects of the transition, the new notes would only be issued to replace worn-out notes or to satisfy rising demand, as instructed by the Royal family.
Andrew Bailey, governor of the Bank of England, expressed his "proudness" over an "important occasion" with the new design.
King Charles III-themed fifty pence coins have already started to circulate via post offices all around the nation.
As with banknotes, coins bearing the late Queen's likeness will continue to be accepted in stores.
It is important to keep in mind that the back side of the contemporary polymer Bank of England banknotes features Sir Winston Churchill, Jane Austen, JMW Turner, and Alan Turing in alphabetical order for anyone participating in a family Christmas quiz this year.
Due primarily to the adoption of contactless payments and later hastened by the COVID epidemic, cash use has significantly decreased when compared to debit cards. The purchasing power of particular coins and banknotes has also decreased as a result of price increases.
Consumers and collectors are nevertheless still quite interested in the graphics featured on the currency.
When the new King Charles banknotes debut, collectors will be especially eager to obtain the lowest serial numbers.