M3GAN: Horror robot doll turns meme fame into box office success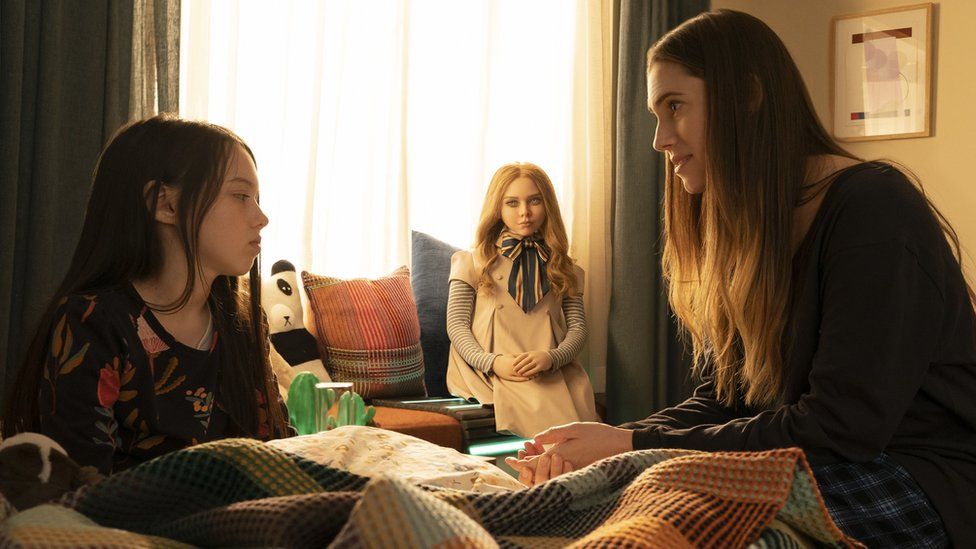 Users flocked to replicate and adapt a menacing and sassy dance routine from M3GAN's trailer, a horror movie about a charming AI doll, and it became an instant hit online last year.
It then did better than anticipated in its first weekend of release at the North American box office.
Over the weekend, the movie brought in $30.2 million (£24.9 million), much exceeding the $17 million to $20 million (£14.5 million to 16.5 million) estimates.
Word-of-mouth is at an all-time high, according to Jim Orr of its studio, Universal.
M3GAN was now ranked second in the US and Canadian box office rankings, trailing only Avatar: The Way of Water, which earned an additional $45 million (£37 million), making it the seventh-highest-grossing film in history.
Model 3 Generative Android, also known as M3GAN, is programmed to guard and befriend an eight-year-old girl whose parents were murdered in a vehicle accident.
When M3GAN starts to take its responsibility to protect young Cady extremely seriously, it quickly transforms from its initially harmless personality into one that is more frightening.
When the trailer first debuted in October, fans focused on one scene in particular: the blank-faced M3GAN performing a cutesy but terrifying dance before approaching another victim.
With alternative soundtracks from Taylor Swift, Beyonce, and Megan Thee Stallion—who gave her namesake her seal of approval—that was quickly converted into a meme, and fans also replicated it themselves.
Reviews have contributed to its success. Although Slant claimed that it "too often pulls its punches" with the horror, IndieWire's film critic predicted that "M3GAN is poised to crack the murder-doll pantheon and stay there forever."
The movie's $12 million (£9.9 million) budget has already been more than recovered, and the success it enjoys at the box office makes it the first blockbuster to be released in 2023.
Additionally, it is an increasingly uncommon instance of a movie outside of a well-known franchise that has drawn crowds of moviegoers to theatres. Producer Jason Blum revelled in this, tweeting: "Movies are back!"
This coming Friday, M3GAN will be shown in UK theatres.