US monkeypox outbreak: Demand for vaccines outstrips supply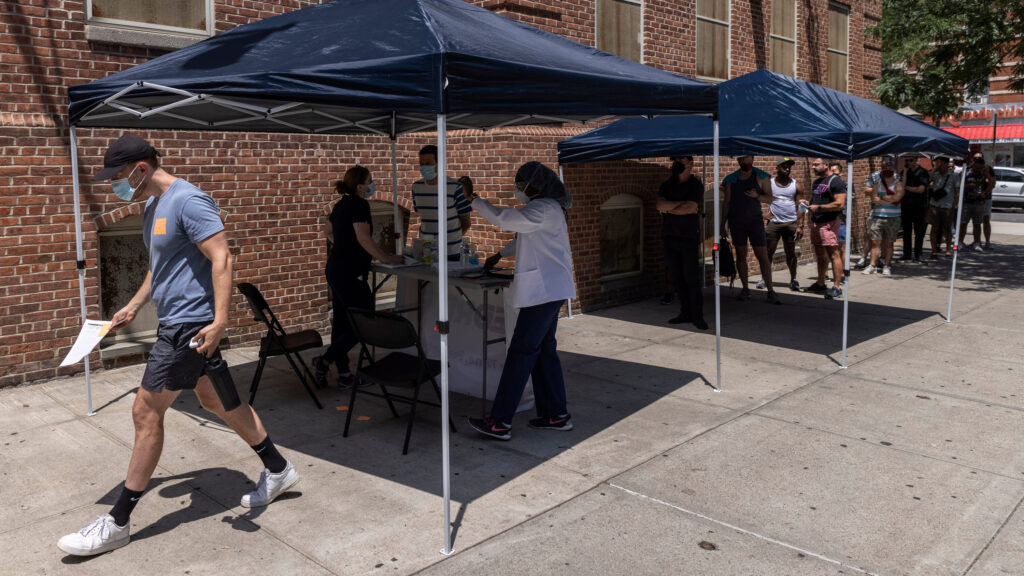 US health experts claim that the supply of monkeypox vaccines does not match the demand.
More than 1,800 instances have been reported in the US thus far, though testing has also been slow, so that number is believed to be an undercount.
Monkeypox is spreading at an alarming rate, notably in New York City, which is the centre of the US outbreak.
The condition, which is characterised by skin sores, typically goes away on its own but can be very painful.
Although anyone can contract the virus, guys who have sex with other men have constituted the majority of verified cases.
Out of the almost 7 million vaccine doses the government purchased overall, 370,000 have been delivered to the US. But millions of the doses won't likely arrive until next year.
According to the US Department of Health and Human Services, the federal government has already delivered around 156,000 doses across the country and plans to begin shipping another 130,000 doses on Monday.
The immunisation website for New York City failed earlier this week when a large number of people attempted to make appointments at once.
Ashwin Vasan, the health commissioner for New York City, expressed regret at the vaccine's uneven distribution.
Eric Adams, the mayor of New York, requested more doses during a conversation on Tuesday with representatives of the Biden administration.
It can take up to three weeks for symptoms to manifest, and diagnostic testing has been slow, so the full extent of the US outbreak is unknown. There were only 45 cases in the US a month ago.
The Jynneos vaccine, made in Denmark by Bavarian Nordic, has been purchased by the US in excess of 1.1 million doses.
Following the announcement by American federal health regulators that an inspection of the Danish plant was complete, hundreds of thousands more doses are anticipated to arrive soon in the US.
The US Centers for Disease Control indicate that almost 70 nations have received reports of more than 12,500 cases of monkeypox.