NYC and Los Angeles schools will return to in-person classes five days a week in the fall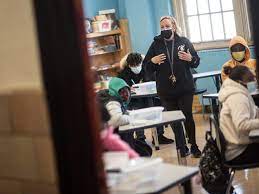 The nation's two largest public school districts will be open for in-person learning five days a week when the next academic year begins, officials said Monday.
While schools in Los Angeles will also offer an online option, New York City schools won't have a remote option.
Getting students and teachers back in the classrooms would be a major milestone in education as well as in reopening the city as it lifts a big barrier to people returning to the workplace.
About 582,000 students, or 61%, are still taking remote instruction at home, according to the latest estimates from the city's Department of Education, and thousands of other students left the district entirely, causing a 4% drop in enrollment.
"It's just amazing the forward motion right now, the recovery that's happening in New York City," de Blasio said on MSNBC's "Morning Joe." "But you can't have a full recovery without full-strength schools, everyone back sitting in those classrooms, kids learning again."
To address some hesitancy to go back to in-person learning, parents will be able to visit their student's classrooms starting in June to see all the measures taken to reduce Covid-19 transmission, such as cleaning and ventilation, de Blasio said.
Meanwhile, many New York City parents have expressed reluctance around in-person schooling. Data from the U.S. Education Department shows students of color are less likely than white students to be learning in person, as of March. Communities of color in the U.S. have been disproportionately affected by the pandemic. In New York, Asian and Black families in particular have been more likely to keep their children home, according to demographic data released by the city. Parents there have cited virus safety concerns, a lack of trust in the school system and fear of discrimination in or on the way to school as reasons for keeping their children home.
Some parents have said they won't feel comfortable until their children are vaccinated, while others have said they prefer remote learning, because it works better for their children academically or socially.
De Blasio said parents will be welcomed back to schools starting in June to ask questions and get answers from educators as well as to see how schools are keeping students and staff safe.
And remote learning isn't completely going away in New York City. Earlier this month, officials said public school students will learn remotely on Election Day, instead of having the usual day off from school, and class will no longer be suspended on "snow days."
The first day of school in New York City is Sept. 13.