Biden appoints new North Korea envoy after meeting with South Korean president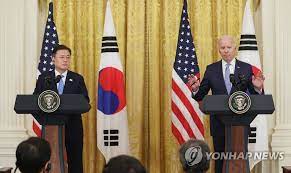 President Biden appointed a special envoy to North Korea on Friday after a White House meeting with South Korea's President Moon Jae-in, declaring that both leaders are "deeply concerned" about "the continuing threat" of the North's nuclear missile programs.
At a joint press conference on Friday, Biden also said he would meet with North Korean leader Kim Jong Un – on the right terms.
The US president told reporters at the White House that his ultimate goal was the complete denuclearization of the Korean Peninsula, but said he was "under no illusions" about how difficult it was to get North Korea to give up. to its nuclear arsenals.
Although Biden declared that "total denuclearization" of the Korean peninsula remains the U.S. objective, talks have been at an impasse since midway through the Trump administration. The president's appointment of a former U.S. ambassador of Korean descent, Sung Kim, as his envoy to explore diplomatic avenues with North Korea was an overture to Moon, who is eager to cement a legacy of peacemaking before leaving office next year.
Moon said Biden's move showed the "firm commitment of the U.S. for exploring diplomacy" with North Korea. Biden, asked at a joint news conference whether he would meet with North Korean leader Kim Jong-un, said he would engage the dictator directly only if Kim committed to discussing giving up his nuclear arsenal.
To help lead this effort, Biden said, State Department veteran Sung Kim would serve as the United States' special envoy to North Korea.
Korean-American diplomat, Sung Kim served as special envoy to North Korea under former President Barack Obama and helped set up former President Donald Trump's summits with Kim.
He has also served as Ambassador to South Korea, the Philippines, and Indonesia, and most recently served as America's Senior Diplomat for East Asia.