Revival of Blanket Blank with Bradley Walsh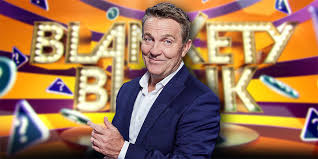 Blankety Blank is back!
The comedy game show is making a return to the BBC for the first time since 1999.
BBC has ordered a full series of the rebooted game show Blankety Blank from Thames following its Christmas special.
The 10×35' series will once again be presented by Bradley Walsh as each episode sees a panel of six celebrities try to fill in the missing blanks over a series of rounds and help win prizes for contestants. Although broadcast dates have yet to be confirmed, it is likely the series will air towards the end of 2021.
"Bradley is honoured to be following in the footsteps of such great presenters and TV legends."a source revealed. "It's a lot of pressure reviving such a well-loved format but Bradley's up for it. If the pilot goes well – and everyone expects it will be a roaring success – a full series will follow."
For those unfamiliar with the show, the game is made up of two contestants and a celebrity panel. The object is to match the answers of as many of the six celebrity panelists as possible on fill-in-the-blank statements.
The last time Blankety Blank aired on TV was December 2016, when David Walliams hosted a Christmas special for ITV.
Walsh previously hosted a one-off special on BBC One on Christmas Day last year. According to overnight ratings data, it was the most-watched new TV comedy episode of 2020, with 5.25 million viewers tuning in.
He says: "I struggle to remember the last time I laughed as much as when I was filming Blankety Blank – so when they asked if I'd be up for doing a series, I jumped at the chance, I'm just so pleased I get to be a part of it. I stand on the shoulders of giants like Les Dawson and Sir Terry Wogan but I'm hoping to put my own stamp on the fantastically nostalgic show."
Aside from hosting hit ITV quiz show The Chase, Bradley Walsh has in recent years fronted Tonight At The London Palladium. As an actor, he is currently filming The Larkins, a new ITV comedy drama series based on The Darling Buds Of May.