Speaker McCarthy presses against Trump's calls for protests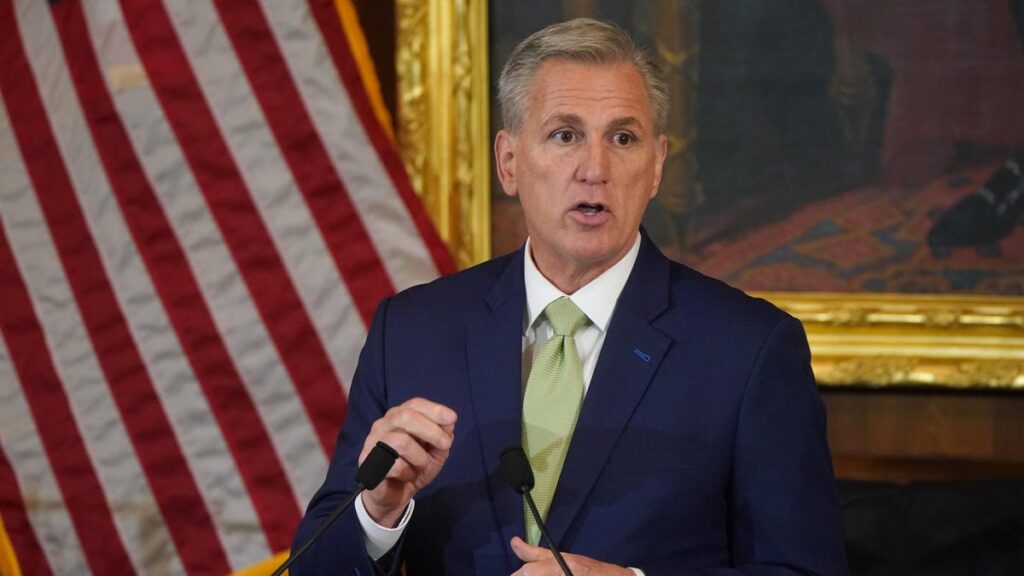 During a press conference on Sunday, Speaker Kevin McCarthy expressed disagreement with Donald Trump's suggestion to stage protests if he is indicted, and instead encouraged people to remain calm and avoid any violent actions. Soon after the reports suggested that New York Defense Attorney Alvin Bragg may charge him in connection with allegations of paying hush money to porn actress Stormy Daniels, Trump predicted that he would be arrested on Tuesday. McCarthy's comments followed in response to the backlash on Trump's calls for protest.
The spokesperson for Manhattan District Attorney Alvin Bragg declined to comment on the ongoing investigation into the $130,000 hush payment made by Trump's former personal lawyer Michael Cohen to porn actor Stormy Daniels. Reports suggest that Bragg's office has been presenting evidence about the payment to a grand jury, which occurred just before the 2016 presidential election in exchange for Daniels' silence about an alleged affair she had with Trump ten years prior.
During the House GOP's annual issues retreat on its first night, Kevin McCarthy, the top House Republican, told reporters that he did not believe that people should protest the investigation and called for calmness instead. This statement was made in response to former President Trump's call for his followers to "Protest, take our nation back" while attacking the investigation and its chief investigator on his self-owned social media platform Truth Social on Saturday. However, McCarthy attempted to clarify Trump's comments, suggesting that he likely meant to "educate" people about Bragg's actions rather than inciting violence. McCarthy also added that Trump does not believe in harming others through protests and that nobody should do so. Furthermore, he defended Trump by saying that lawyers after lawyers can argue that this is the weakest case because it attempts to elevate a misdemeanor to a felony.
Earlier this month, Bragg's office extended an invitation for Trump to testify before the grand jury investigating the hush payment, a move that legal experts interpreted as a sign of an impending indictment. However, according to an individual familiar with the matter, Trump declined the invitation. On Friday, NBC News reported that law enforcement and security agencies at different levels of government were making arrangements for a possible indictment, as early as this week, and taking security precautions in case of any violent incidents. When questioned about the possibility of the DA acquiring evidence that could lead to charges against Trump, McCarthy avoided answering directly and instead criticized the DA for being politically biased. Additionally, he contended that even if Trump were indicted, the Constitution does not prohibit him from running for president, when asked about the appropriateness of Trump continuing his campaign.
In addition to the ongoing investigation into the hush payment, Trump is also facing a state-level criminal investigation in Georgia for his role in trying to overturn the 2020 election results. Moreover, a special counsel appointed by U.S. Attorney General Merrick Garland is currently examining Trump's handling of classified government documents after he left office, as well as his attempts to challenge the 2020 election results, which he lost to President Joe Biden.