The protestors from Khalistan attempted to attack the Indian High Commission in London and tear down the Indian flag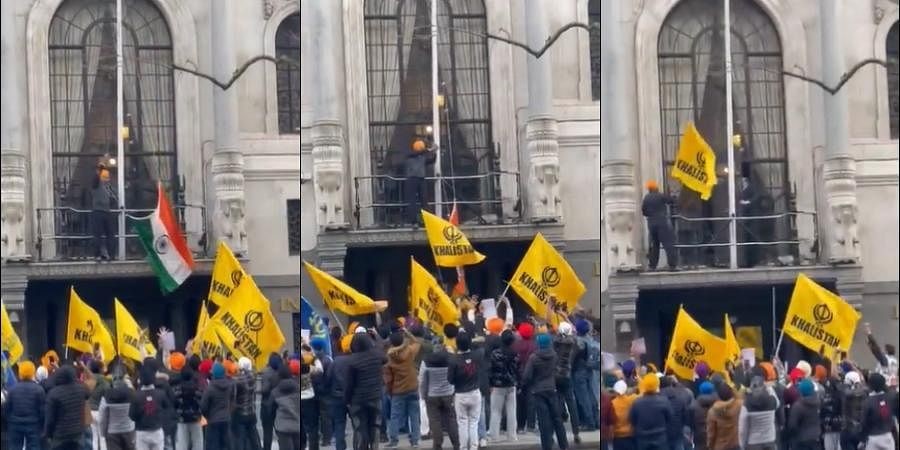 Khalistani protestors vandalize the Indian flag on the soil of Britain. The Deputy High Commissioner of Britain, Christina Scott, was called by the Center on Sunday night to the Ministry of External Affairs (MEA) in an outspoken manner. The protest was conducted at the High Commission in London. Ms. Scott was asked for an explanation and a thorough investigation, and the MEA statement added that the British government's approach to the security of Indian diplomats was unacceptable.
The activists are protesting against an operation by Punjab security forces on the "Waaris Punjab De (WPD) group." They tried to enter the High Commission and shouted Khalistani slogans, and one of them scaled the Indian High Commission's balcony and brought down the Indian national flag.
According to MEA, "an explanation was requested for the British security's absolute absence, which allowed these individuals to enter the High Commission buildings." In this regard, she was reminded of the fundamental commitments the U.K. government has under the Vienna Convention.
The statement continued, "India finds intolerable the U.K. Government's negligence towards the security of Indian diplomatic buildings and staff in the U.K. The most serious incident of this kind has occurred since 2019 when separatist protestors from Kashmir and the Khalistan region surrounded the embassy and threw eggs and other items at the embassy.
British High Commissioner Alex Ellis tweeted, "I condemn the terrible attacks against the personnel and premises of the Indian High Commission in London—completely unacceptable."
India expects the U.K. government to act quickly to identify, arrest, and prosecute all those responsible for the incident and to put in place strict security precautions to prevent similar protests from occurring, according to the MEA's statement.
An employee of the High Commission can be seen safeguarding the flag and giving it to someone within the structure in a video that a high commission official uploaded.