India slams Pakistan for raking up Kashmir issue in U.N.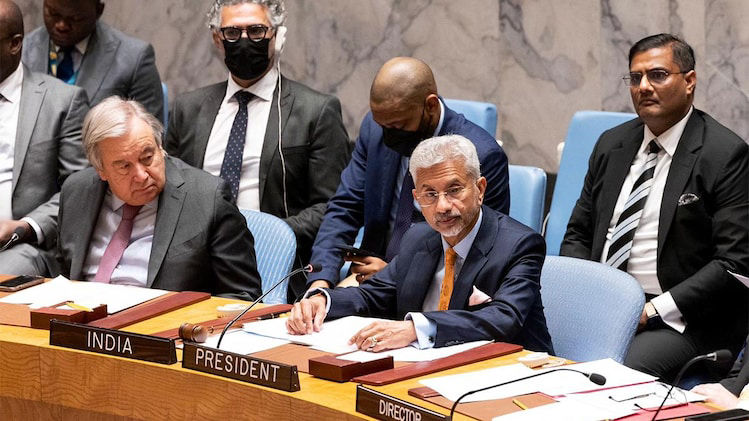 India retaliated strongly against Pakistan on December 14 after it brought up the Kashmir issue in the U.N. Security Council, claiming that a nation that harboured the assassinated al-Qaeda leader Osama bin Laden and attacked a neighbouring parliament lacks the legitimacy to "sermonise" in the influential U.N. body. External Affairs Minister S. Jaishankar stated that the credibility of the U.N. depends on its ability to effectively address the major challenges of our
Before India's two-year term as an elected member of the influential 15 nations comes to an end this month, Mr. Jaishankar arrived at the United Nations on December 13 to preside over two landmark events on counterterrorism and reformed multilateralism. These events are being held during India's current presidency of the U.N. Security Council.
The external affairs minister presided over the historic U.N. Security Council open debate on "Maintenance of International Peace and Security: A New Orientation for Reformed Multilateralism," which was held on December 14 while India held the 15-nation Council's Presidency.
Mr. Bhutto was one of the more than 60 speakers scheduled for the discussion, and in his remarks to the Council, he brought up the Kashmir problem. When Mr. Bhutto spoke in the Council, Ambassador Ruchira Kamboj of India was serving as the debate's chair.
On December 13, 18 years ago, terrorists from the Pakistan-based Lashkar-e-Taiba (LeT) and Jaish-e-Mohammed (JeM) attacked the Indian Parliament complex in New Delhi, inflicting nine fatalities.
Tensions between India and Pakistan have increased after New Delhi revoked Article 370 of the Constitution on August 5, 2019, to remove Jammu and Kashmir's special status. Pakistan downgraded diplomatic ties with India and expelled the Indian envoy as a strong response to India's action.
India has made it clear to the world that the choice to abolish Article 370 is it's own. Additionally, it encouraged Pakistan to stop disseminating lies about India and to embrace reality.
India has stated its wish for ongoing, friendly relations with Islamabad in an environment free of terrorism, hostility, and violence.