Rihanna announces her pregnancy during the "Super Bowl halftime show"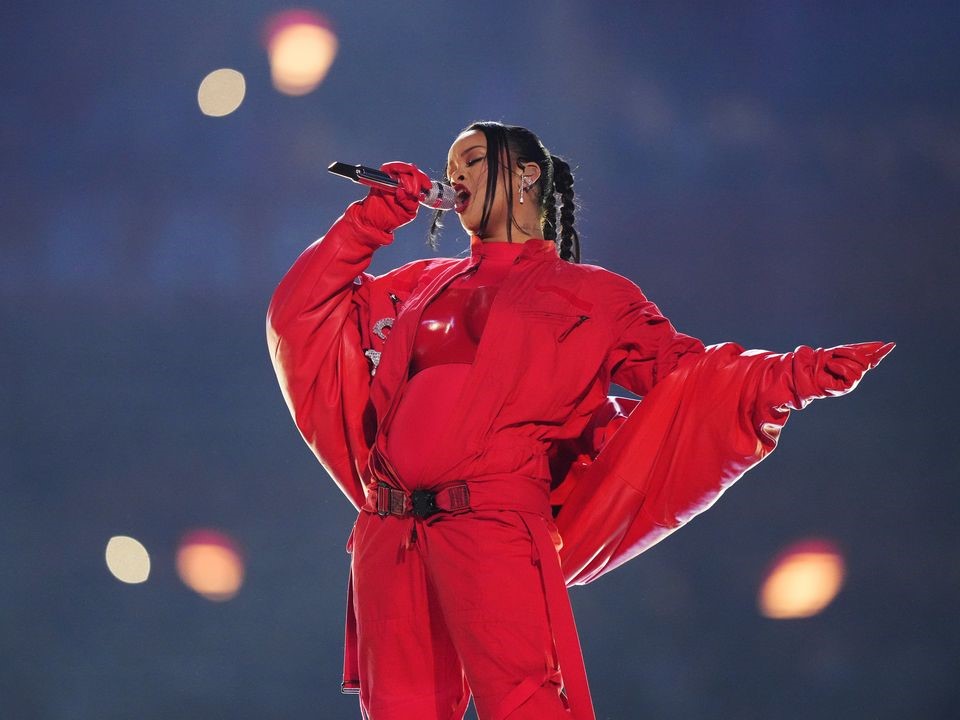 When Rihanna unveiled an unexpected surprise guest during her thrilling and hit-filled half-time performance at the "Super Bowl" on Sunday, social media reacted.
If there will be any secrets during her concert at Arizona's State Farm Stadium, the Bajan singer was interviewed to find out last week.
She said, "I'm considering bringing someone." I'm unsure; let's wait and see.
Naturally, her admirers assumed she was referring to one of the several musicians she has worked with throughout the course of her distinguished career. The half-time show tradition of unexpected duets made a guest appearance by Jay-Z, Drake, or Eminem seem possible and appropriate.
But none of them was mentioned by Rihanna. She was actually "dropping hints that she was expecting her second child at the time, but nobody noticed."
Although the singer didn't present any brand-new music during her appearance at the "Super Bowl" on Sunday, the "baby bump" she showed off nearly crashed the internet.
As a throng of enthusiastic performers in all white gathered below, Rihanna made her appearance in an all-red customised costume designed by Loewe that floated far over the audience.
"Better Have My Money" was the singer's first song, an odd beginning considering she isn't getting paid for her Super Bowl performance, to the roar of the crowd.
The 34-year-old charmed the audience from above, as her performers executed their routines below her at a breakneck pace and with razor-sharp choreography that they would carry throughout the entire show.
The singer sang a number of well-known singles, front-loading her set with a few of her most upbeat and catchy songs.
It was a wise choice to stick to her huge back catalogue, one of the best in pop, despite rumours that the artist may use the occasion to perform new music.
The performer performed only the first verse or lyric of certain songs while jamming a tonne of hits into a brief 14-minute set. But huge singles like Rude Boy were countered with the less well-known and slightly harder-edged Pour It Up.
The set list utilised some of her most well-known duets, which was somewhat surprising because none of her collaborators actually joined her on stage.
Jay-Z, Ye (formerly Kanye West), or DJ Khaled, who frequently makes appearances on "Run This Town", "All of the Lights", and "Wild Thoughts" during her performances of those songs, did not make an appearance.
However, their absence had no impact. By this time, everyone's focus was firmly fixed on a completely new and highly noticeable special visitor.