Bhupendra Patel: The man who is Gujarat's new chief minister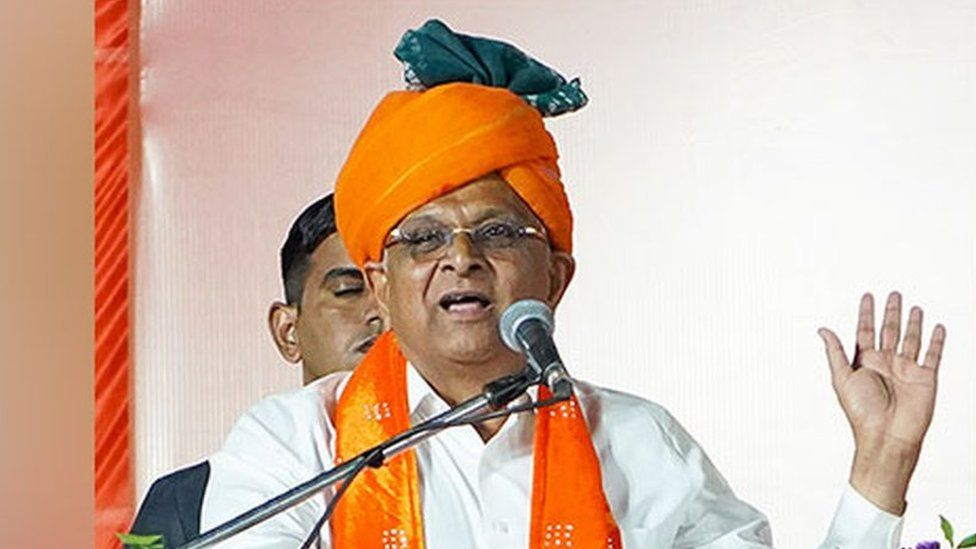 Following the BJP's decisive victory in recent elections, Bhupendra Patel has been sworn in as Gujarat's chief minister. Gujarat is a state in western India.
Amit Shah, the home minister, and Prime Minister Narendra Modi were present for his swearing-in ceremony, which took place on Monday in Gandhinagar.
Gujarat has been under the rule of India's ruling Bharatiya Janata Party (BJP) since 1998.
In their sixth consecutive term in the state, they won 156 of the 182 seats.
At a formal ceremony in the state's capital, Mr. Patel and the new council of ministers swore their oaths of office.
Following the announcement of the election results on Friday, BJP supporters lit fireworks in jubilation and showered Mr. Patel, who has served as the state's chief minister since last year, with rose petals.
Gujarat had two rounds of voting on December 1 and 5, which resulted in a record-breaking victory for the BJP.
Mr. Patel ran for office in Ahmedabad's Ghatlodia district and won with an unprecedented number of votes.
Following the resignation of the state's previous chief minister, Vijay Rupani, the BJP unexpectedly named the 60-year-old as Gujarat's first chief minister in September 2021.
Even though he had been a municipality member for a long time, Mr. Patel was a first-time legislator at the time with no prior government experience.
According to reports, both Mr. Modi and Mr. Shah, whose home state is also Gujarat, considered him their top pick for chief minister.
Mr. Patel was raised in Gujarat's commercial city of Ahmedabad and completed his civil engineering degree before entering politics.
Since he was young, he has been involved with the Rashtriya Swayamsevak Sangh (RSS), the BJP's ideological forerunner and the country's foremost Hindu nationalist group.
Patels have historically supported the BJP, but according to sources, they were dissatisfied with the party since they felt their community was not adequately represented in the government.
For the BJP, Gujarat is a key state, and Mr. Modi's time in Gujarat served as the impetus for his candidacy for prime minister.
Recent state elections were used as a gauge of the party's support before the federal elections in 2024.
Therefore, choosing a chief minister from the Patel community may be a crucial step to avoid any election setbacks, according to analysts.